Brighton Fringe Shows
Here is a selection of images from a variety of shows I photographed at Brighton's Fringe 2014.
Foil, Arms & Hog
I first saw Foil Arms and Hog three years ago. Since then, they have gone from strength to strength - each year their material and delivery just get better. On this occasion, they performed at a larger, more suitable venue - The Warren. It was the perfect space for their act and the crowd lapped it up, especially the improv stuff.
The Ladyboys of Bangkok
The Lady Boys of Bangkok returned to Brighton with another action-packed performance - tight routines and a fun-loving, light-hearted act. Filled with more sparkle than a glitterball, they never disappoint with the effort and energy that goes into each performance.
Laurel & Hardy
Lucky Dog Theatre Productions returned to the Brighton Media Centre to perform their new improved Laurel & Hardy show, sharing the life and times of Stan Laurel and Oliver Hardy. Having seen the show last year, I have to say I was blown away by the improvements and the level to which the guys have taken this show. It is a moving, entertaining and informative performance which, the evening I was there, rightly got a two-minute round of applause at the end, and a standing ovation the following night. Stan even implemented my suggestion of adding earsy-nosey-earsy into the show. :)
Lost in Transit
The Spiegeltent (where all the cool kids hang out) typically has fantastic acts on. Lost in Transit was no exception.
A train whistle blows, plumes of smoke fill the room and onto the stage walks a girl with a suitcase. We don't know where she is going or why, but the whole act revolves around her losing her suitcase on the trip. The antics en route were fast-paced, moving and cleverly conceived.
The mix of aerial performance, mime and acrobatics was a sight to behold as the traveller's journey unfolded. And, just as it had begun, the room filled with smoke and the girl, suitcase finally back in hand, departed.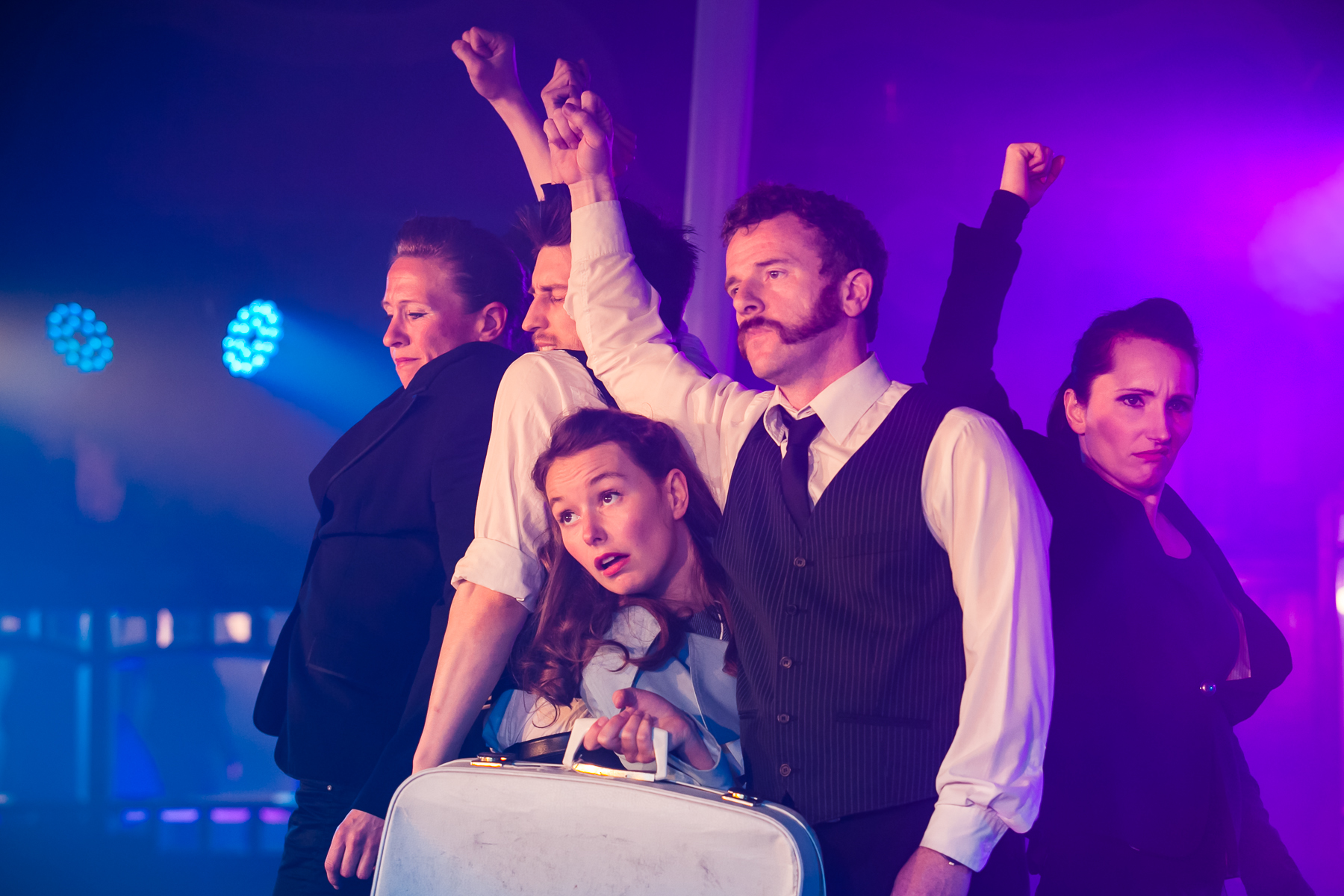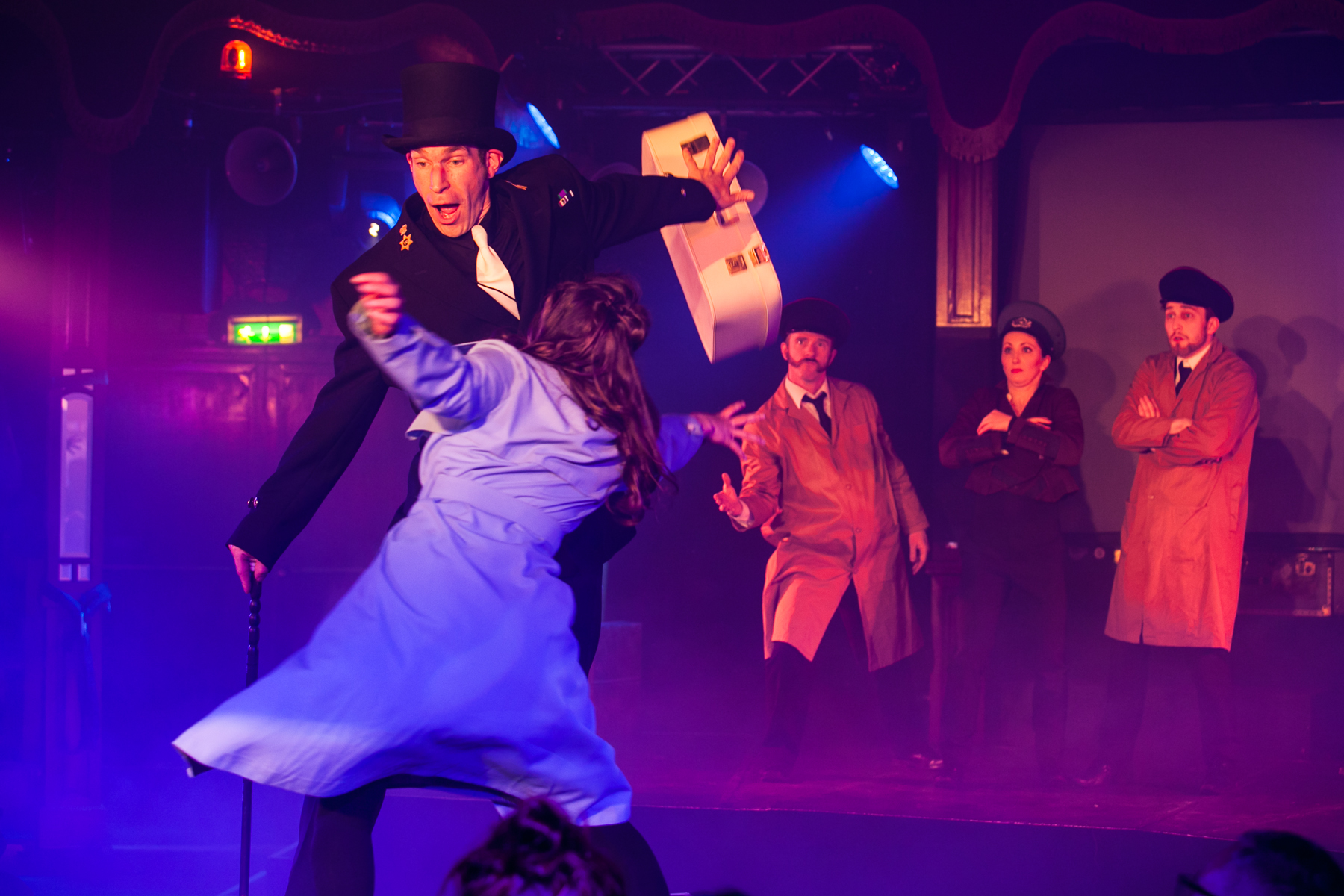 Memoirs of a Slutsky
Memoirs of a Slutsky is a true story about the trials and tribulations of the burlesque artist, storyteller and comedienne Zoe Charles. With the aid of a flip chart we are whisked back in time to Zoe's humble beginnings. Amusing drawings, mixed with anecdotal stories and an energetic performance simply endeared Zoe to the audience. I kept wondering "Is this really fact or is it fiction?" as I listened to her story unfold, but Zoe assured me after the show it was ALL true! No spoilers, so you will have to go and watch it yourself.
Die Roten Punkte
Die Roten Punkte are a German, rock/pop/art brother and sister combo, whose hilarious show Kunst Rock (Art Rock) was performed at the Spiegeltent.
Astrid and Otto Rot have a dysfunctional and inappropriate relationship that unfolds before your eyes and ears. The music is interspersed with outbreaks of randomness that just has to be seen to be believed. This was a gem of a performance and a well-crafted show.
Fanti Acrobats
Fanti Acrobats are a traditional African acrobatic troupe from Ghana. The fast-paced, high-energy act kept the audience amazed and astonished as they flipped, contorted and limboed before the crowds in the Thistle Hotel.
Knee Deep
Casus is an Australian contemporary circus troupe whose show Knee Deep is captivating, moving and astounding. Their combined skills and amazing physical feats will leave you gasping for breath.
Knee Deep was absolutely the highlight of the Brighton Fringe, in my opinion. The Spiegeltent was exactly the right venue for this too - being so close to the action brought the audience into the show, rather than simply being spectators. At one point, you really could have heard a pin drop.
King of the Fringe
The first 'King of the Fringe' was crowned last night at this LGBT event. Contestants were asked to drag-up and strut their stuff in a talent, fashion and sleepwear competition. The three contestants fought valiantly, even using nunchucks, but George Faithless stole the show and, ultimately, the crown.
Dade Freeman is a Brighton photographer producing portraits and headshots for actors, musicians, corporate business and other professional industries.